We are open in San-Francisco
To create a long-lasting sustainable Income for American workers
We are in Rocket Space
Looking for Founding Members
Recruiting members to expand business into North American countries
Our Goal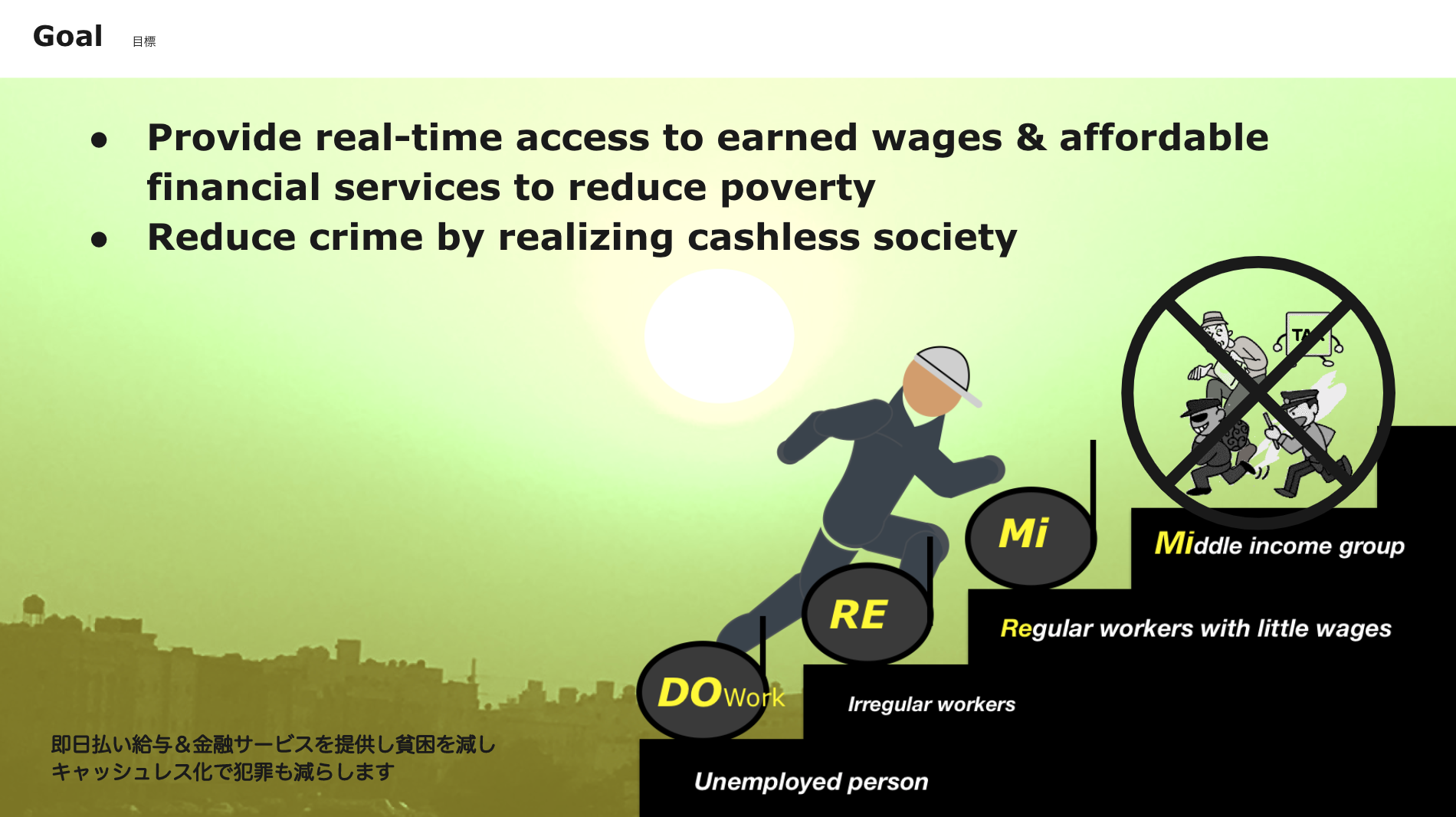 World's first!
Introduction of revenue sharing fee
Click here for more detail about revenue sharing fee.
Organization chart
Click here for other region's organization chart.
Priory check items
Employment Contract
(1)Since we want to be a company that can evaluate people fairly, everyone shall be renewed employment each year as a contract employee.
(Reason) People who can not keep the company's minimum rules in order not to disappoint customer expectations, which is the source of income, would lead to dissatisfaction of people who commit it.
One of the minimum rules is to "be punctual" For example, suppose your relative is hospitalized due to an accident, wandering around life and death. You ought to see your relative as soon as possible. It was early morning. I went to the station to take the train to go to the hospital. However, a station worker slept over and came to work late, so that the gate was still closed, and you couldn't enter the platform, but the train is running. Don't you think that such a thing should not be happened?
Customers will not come if department stores, hospitals and restaurants don't open on time. Consequently, the company's profit will decline and employee's compensation will not increase. If you cannot keep the minimum promise as an adult, you will pull the other employees off in our company who work hard to create a fair evaluation system.
Secondly, it is about people who can not use "Doreming System". It is indispensable for us to identify issues and continuously improve our system by using it by our own. When customers ask how to use the system, and if you cannot answer, we shall judge you that you do not want to achieve your own dreams with our company (Our shared dream/value is to do the jobs that are highly respected by family members, friends and customers.)
When I checked the actual employees' record in the past, I was surprised about a number of absent without notice and the lack of working hours that did not reach to the prescribed working hours of the month. I found that salary was fully paid without checking himself (Country Manager) and his managing member.
When I asked him the reason, it was an excuse that he was not coming to work because he went to an event. For the half year that I checked for attendance, there were 80 days for absent. Several tens of days were late. Don't you think it is unbelievable?
When we tried to do dismissal trial if the work record was true, he said I'll quit, then left. However, even after he quit, he was attending the event organized by government agencies as our representative.
I was also attending the international conference (using TV) as I was invited by the government agency in Japan. I was surprised to see him on the TV. It was my fault to employ such a person who doesn't have common sense, but because I witnessed this, I thought it is necessary to add this second condition.
Third, it is about "people who do not follow the rules". For those who commit or attempt a crime or people who cannot follow the rules, we shall not renew the employment contract. It is because I do not want other people are also viewed like that because of one such person's fault.
For those who do not fall into these three categories, we shall update the employment contract.
We want to take care of those who work hard and make results and achieve milestones one by one together.
Unfortunately, in order to protect the right people and the organization, please understand that in this reality, we should believe that the counterparty is negative rather than positive.
(2)We would like to create an ideal organization to develop a fair compensation scheme, which is not the relationship between employer and employee.
In order to realize (2), we implemented the world's first revenue share compensation system.
We organize nine members in a team and reward according to the outcome of each team. We shall disclose how much the team can earn if the team achieves the outcomes in advance based on the performance-based remuneration.
Click here for the full version of wage contract.
Company rules and mission
Business plan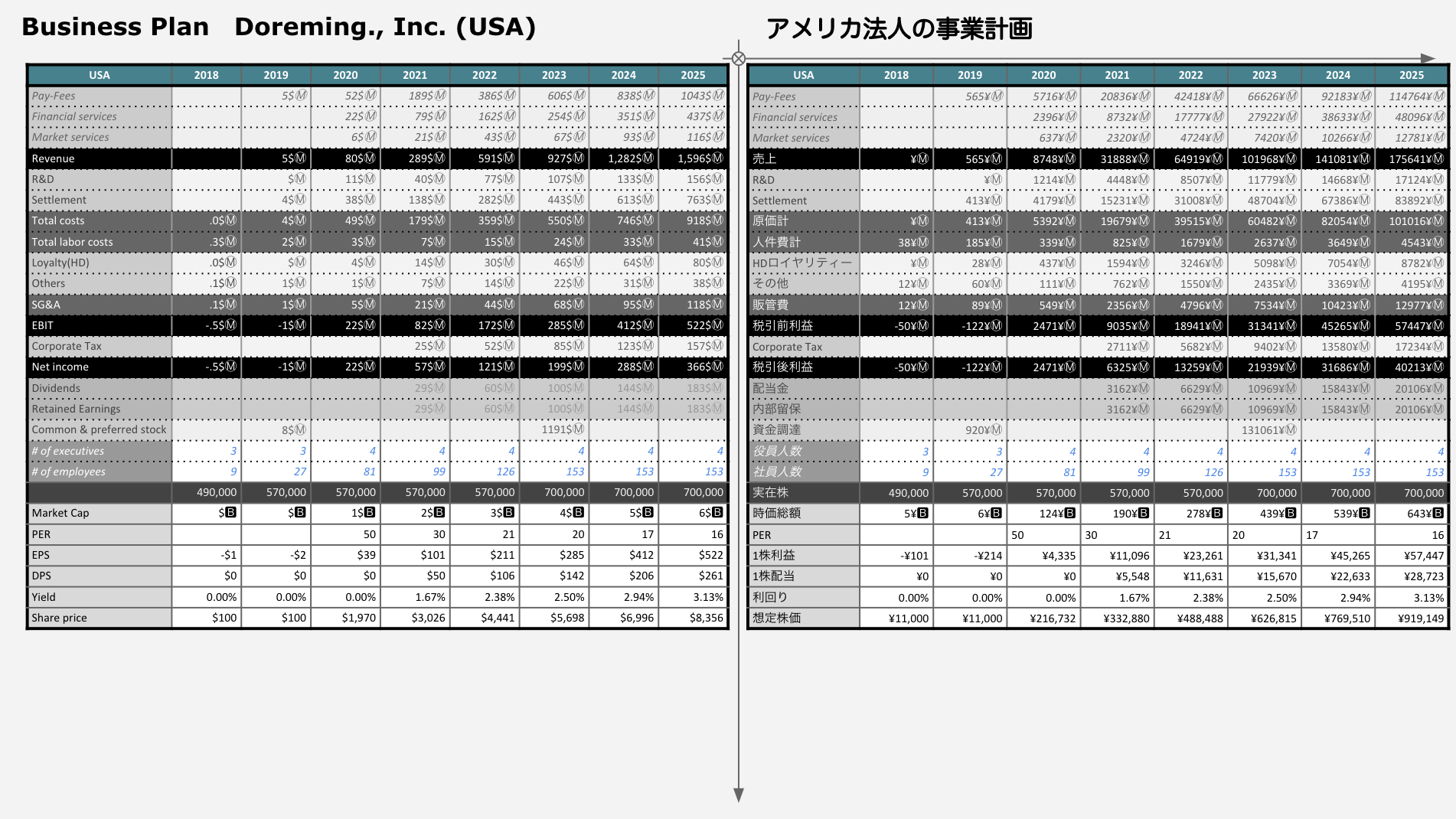 Click here for other region's business plan.
Apply for the job
Doreming , Inc.
#180 Sansome St, San Francisco, CA 94104, United States
CEO : Masahiro Takasaki
Contact Us